The ARRI 16 SR-3 is designed to meet all modern production requirements.
With its off-set pl-mount it is easy to change the format from normal 16 to super 16.
Equipped with time code, the ARRI 16 SR-3 offers direct access to electronic postproduction.
The bright high quality video assist gives the possibility of rough OFF-line editing.
A manually adjustable mirror shutter and the smooth operation level of 20 dB(A) (+2dB(A)) expand the working possibilities of this universal production camera.
A high speed version is also available.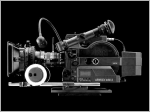 ARRI 16 SR-3