The Panther's design concept is as simple as it is robust.
The electro-mechanical drive has proved itself over decades.
It is not only quiet, but has also in practice shown itself to be extremely reliable and durable.
The Panther in its basic model already has much to offer. With its CPU-controlled center column and its pivoting wheel arms, it can be easily adapted to many diverse shot angles. Together with the Panther accessory program, you can realize almost any shot with only one dolly system.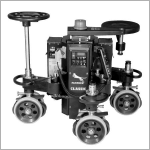 Panther Dolly